1/30/20 Trail Update!
Weather seems to be holding steady as predicted for this week and on race day. All courses are firming up with cooler nights and the adjusted 50k course is ready to go! Friday night grooming temps should be in the upper 20's with a race day starting temperature at 31 degrees. Looks to be a promising race day with temperatures between 31 – 33 degrees with clouds and up to 1″ of new snow. Last update will be tomorrow afternoon when we finishing marking the course! Remember, today is the last day for online registration which will close at 5:00 pm. Friday and Saturday registration will happen at Mancelona High School!


1/28/20 Trail Update!
As a short freeze approaches tonight, we have a MAJOR UPDATE 
for the 50k trail. The warm weather left  the 50k only trail thin in some areas, which will make the trail very difficult to Tidd Tech. The decision to not use this portion was made tonight and an alternate route for the 50k will be used on Saturday. At 8.5k, the trial will split (50k one way, 10k/20k other way) and the 50k will complete two 12k loops before rejoining the 10k/20k trail. This section is in good condition and held up nicely despite the warm weather. Great news for the 50k, all but 200 yds of the trail will be groomed by Shanty Creeks Nordic Trail 18 ft wide groomer! 
With this new course, the 50k, 20k, and 10k, will all be groomed wide, smooth, and ready for a great day of racing! Remember, Wednesday and Thursday are the last days for online registration. Registration on Friday and Saturday will take place at Mancelona High School. We look forward to seeing all of you on Saturday for the 44th annual White Pine Stampede! 
1/28/20 Trail Update!
Conditions have been holding steady since Saturday. The predicted mid 30's days have diminished to low 30's and night time temperatures are well below freezing. Tonight and tomorrow night the temperatures will be in the teens. Sunday our area received 2″ of new snow and tomorrow we might get another 1″ or so. Shanty Creek and White Pine will be out on the trail tonight to check all trail conditions and we will have another update tomorrow! 50k/20k/10k are still ready to go on Saturday! 
1/25/20 Trail Update!
This weekend, Northern Michigan is seeing a warm-up for the next few days. The daytime temps will be in the 30's while the night time temps will be much cooler in the mid 20's. The 10k/20k trail system is holding up nicely while the 50k does have a few, short, sections in which the snow is getting thin. The 50k race is still ready to go, but if the temperatures continue to be warm, those racers should bring two sets of skies in case the snow gets too thin. The 10k/20k should have no issues even through this warm-up. This site will be updated every other day with current trail conditions until race day!
1/23/20 Trail Update!
Greetings!
With just over a week to go, trails are still holding up nicely despite a few warm day ahead. The night time temperatures are still well below freezing during those days, which will allow the trails to be in good condition on race day. Today, the area has already seen 2″ of new snow with a possible 2″-3″ more by Saturday. Monday, Shanty creek completed the first rolling/grooming of the 50k non-Shanty Creek property and the trail looked beautiful! We are also planning on another rolling on Monday with a final grooming late Friday, January 31. Another trail update is coming this weekend!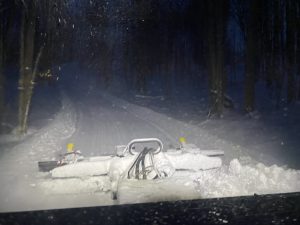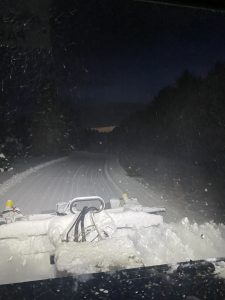 1/19/20 Trail Update!
This past week our trails added a much needed 16+" of new snow. The WPS trails have now seen over two feet of snow in the past two weeks! The trail committee was busy this weekend rolling all the portions groomed by the snowmobile for the 50k race and Shanty Creek has also been busy grooming all their Nordic Trails. Extended forecast looks to be good "snow binding" weather, which should firm up all parts of the trail nicely. Predicted race day temps are in the high 20's and looks like a promising weekend on February 1. Next trail update will be on Wednesday! 


1/16/20 Trail Update!
It's a beautiful day in Northern Michigan! We are finally getting the much anticipate snowstorm and it looks like it will continue for the next few days. On Monday, the area got 2" and on Thursday morning we had an additional 5". The Mancelona/Bellaire area is expected to see an additional 5" – 10" by Saturday night bringing this week's total snow fall between 12" – 18".
Visit https://www.shantycreek.com/ski/conditions-cams/#xc to see current conditions for the Nordic Trail at Shanty Creek. Next trail update will be on Sunday!
1/12/20 Trail Update!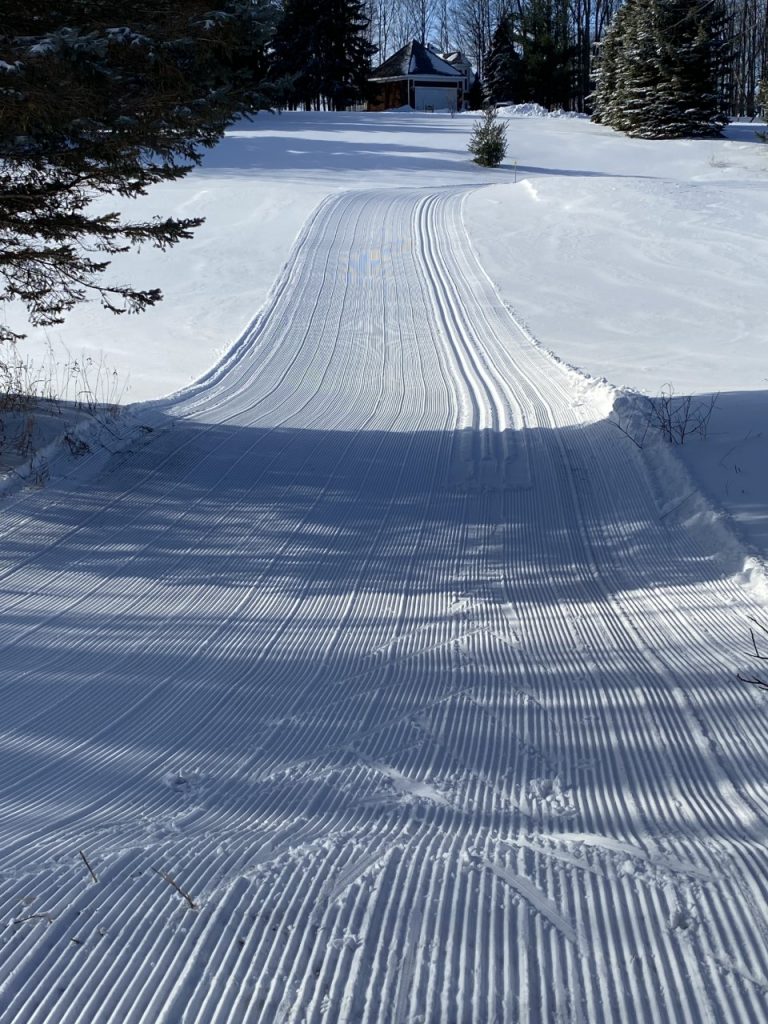 The recent snowstorm did not bring the much anticipated 10+" of snow but the Mancelona/Bellaire area did get 6″ of new snow! With this addition, we are ready to rock 'n' roll for all three races! The trails are getting close to a 12″ base and with an additional 1″ – 3″ expected tonight, we should be there by race day! Next trail update will be on Wednesday! 
1/9/20 Trail Update!
Monday, January 5, Mancelona/Bellaire area got an additional 4″-5″ of snow. In addition to Monday, we have received about 1″ everyday and a possible storm on Saturday that could bring another 5+". Shanty Creek has been grooming their trails all week and the private property portions are beginning to get packed down! Things are looking good for all three distances, in which the 10k and 20k will have two single tracks and more than half the 50k will be 18 ft wide!! Next update will be this weekend!
1/4/20 Trail Update!
During the Holiday week, we lost most of our base from our early snow in November and early December. Thankfully, early this past week, we had two snow storms that brought 8″ of heavy-wet snow and an additional 8″ of fluffy snow. Although the weather started to warm up towards this weekend, we were left with a nice solid base for the colder temperatures ahead. Shanty Creek has been rolling/grooming their trails this week and we will start rolling the private property this week. We are getting closer to having the right amount of snow for a great race! This website will be updated frequently as the race gets closer so stay tuned for more updates! 


12.27.19
New This Year!
The White Pine Stampede Committee is pleased to announce that chipped timing will now be available for the 50K, 20K and 10K races.
We've been encouraged by the amount of snowfall we've received so far this season (80+ inches!) and that snow still remains on the trails despite our winter warm up. Stay tuned!

10.21.19
White Pine Stampede Welcomes New Race Director & Committee Members
The White Pine Stampede Committee announced a new director and committee members as they kick off official preparations for the 44th annual race to be held Feb. 1, 2020.
Ben Tarbutton served as a committee member and course director for several years, so he is well equipped to take over as Race Director for Beth McKaig, who served in this capacity last year after the death of her husband and race founder, Jack McKaig.
Tarbutton said his main priority is to continue the White Pine's tradition as the oldest point-to-point cross country ski race, so the course layout and promotion will be the focus of the committee this fall.
"We plan to make some adjustments to the course this year in order to maintain as close to a 50K race as possible," Tarbutton said. "We also hope to expand our promotion of the event to continue attracting new racers as we have for the past 43 years."
Tarbutton added that Shanty Creek and Short's Brewing Company will continue to be major sponsors of the event, and he and other committee members are working closely with officials from both organizations to finalize the course and the race day schedule.
"Right now, the committee is focused on recruiting additional sponsors for the event, so we can expand our promotional outreach and bring more people into Antrim County," Tarbutton said.
With the departure of long-time committee members Geri Jones and Joe Clark, new members were recruited to take over their responsibilities.
Steven Elder, of Mancelona, will step in to help coordinate the volunteers on race day. Approximately 200 people from Antrim County come out each year to make sure the event is successful, and Elder will make sure every station along the three courses are filled as well as all of the finish line and timing duties.
Lindsey Southwell, also of Mancelona, will maintain the White Pine Stampede website and take over the design of the registration forms and posters.
"Although we were sad to see Geri and Joe leave the committee, they have committed to volunteering for the race still, so they will still be a part of the volunteer family that makes this race successful year after year," Tarbutton said. "We are also excited to have Steve and Lindsey on board to bring their talents to the committee. We have some great things in store this year."
Along with Tarbutton, Southwell, and Elder, the White Pine Committee includes Rebecca Kendall, Alyse Tarbutton, Beth McKaig, Laurie Allison, and Stacey HicksIt's a beautiful day in Northern Michigan! We are finally getting the much anticipate snowstorm and it looks like it will continue for the next few days. On Monday, the area got 2" and on Thursday morning we had an additional 5". The Mancelona/Bellaire area is expected to see an additional 5" – 10" by Saturday night bringing this week's total snow fall between 12" – 18".
Visit https://www.shantycreek.com/ski/conditions-cams/#xc to see current conditions for the Nordic Trail at Shanty Creek. Next trail update will be on Sundayi